HSE cards for cleaning services
All employees who perform cleaning services in Norway must carry an official ID issued by the Norwegian Labour Inspection Authority . These cards are called HSE cards.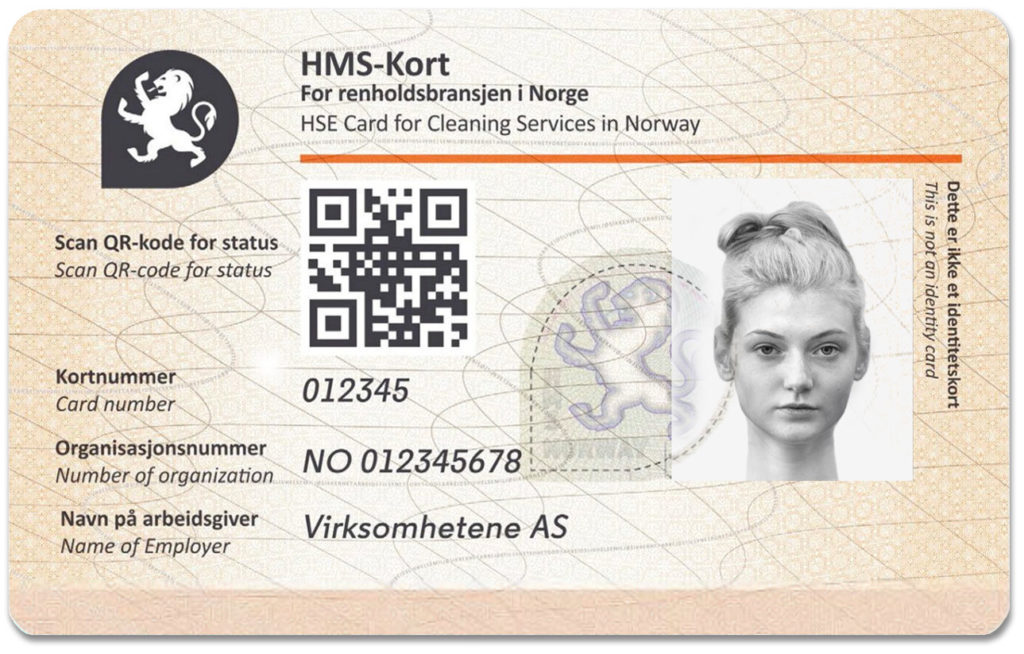 Important: Cleaning companies require authorization by the Labour Inspection Authority in order to operate in Norway. Companies must be authorized before they can apply for HSE cards for their employees. Get your cleaning company approved here.
What are HSE cards?
The HSE cards function as ID cards, identifying the employee and their employer. ID cards help prevent illicit work, social dumping, illegal immigration etc.
You must carry a HSE card if you perform cleaning services either on a short-term or long-term basis, or if you operate as an individual contractor in any capacity, including working in the private market.
This requirement helps the cleaning industry, as it makes it harder for untrustworthy businesses to gain a competitive advantage.
You are required to hold one HSE card per employment. If you perform freelance work or operate as a contractor you need to have one HSE card per activity/entity.
HSE cards are issued by Evry card on behalf of the Ministry of Labour. Jobbkort AS assists by acquiring and delivering approved HSE cards to businesses and individual contractors in the cleaning sector.
What our clients say about us
Jobbkort.no has assisted Clean Unit Renhold with its registration as a state-approved cleaning company. They also deliver HSE cards to all our employees. We are happy to save both time and effort by relying on the expertise of Jobbkort.no.
Requirements for employers
The employers must be registered in:
the Central Coordinating Register for Legal Entities (Enhetsregisteret)
the VAT register (Merverdiavgiftsregisteret)*
The Norwegian Labour Inspection Authority's list of approved cleaning companies
*) Exceptions can be made for new companies or companies that for other reasons are not registered in the VAT register.
Cleaning companies must be approved by the Norwegian Labour Inspection authority before they can apply for HSE cards. Apply for authorization here.
Requirements for employees
The employees/sole proprietors must be registered in:
the National Population Register (Folkeregisteret) or with the Central Office for Foreign Tax Affairs (Sentralskattekontoret for utenlandssaker)
must be registered in the NAV State Register of Employers and Employees (Aa-registeret)
If you are a foreign worker, you only need to register with the Central Office for Foreign Tax Affairs who will assign a D-number and retain information about your employment.
Important: Jobbkort.no cannot order your card if you fail to register with any of these registers. Even though you have initiated the registration process, it may not have been finalized yet.
Orders that are sent to us before the registrations are completed will experience delays.
The consequences of not having a valid HSE card
The Norwegian Labour Inspection Authority (Arbeidstilsynet) is responsible for enforcing the law. They are authorized to issue fines to enterprises and individual contractors who fail to carry HSE cards.
Companies that do not provide HSE cards to their employees will be ordered to obtain these by the Labour Inspection Authority (Arbeidstilsynet), and refusal to supply HSE cards at this stage will lead to suspension of the company's operations. Serious cases will be reported to the police and could lead to three month's imprisonment.